Testing...
Gus and Cota are both NAVHDA (North American Versatile Hunting Association) UT Prized dogs. 
They have produced multiple award winning litters.  
Our young stud CK received the highest score possible in his Natural Ability test:  Prize I, 112
And at only one year eleven months old he received a
197 out of a possible 204 in the NAVHDA UT test.
We have received some of the highest scores possible in testing our pups, but that is just to add to their pedigree and to give us feedback on how our line is developing.  
Our main focus is to produce family oriented hunting dogs.  Pups that will love to hunt and love to please you.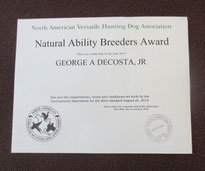 We've received mulitiple North American Versatile Hunting Dog Association's Natural Ability Breeders Awards.  
 We want to thank all our Forever Families for testing their puppies.