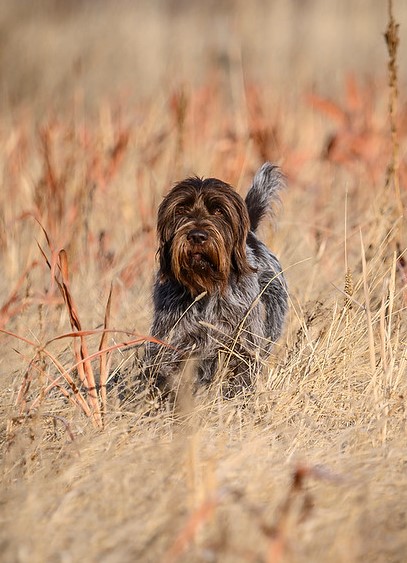 HG's CK
HG's Cota's Keoki (CK) 
NA Prize I, 112
UT Prize II, 197
OFA WG-2570G24M-VPI
OFA WG-EL619M24-VPI
OFA WG-TH101/24M-VPI
OFA WG-EYE245/43M-VPI
DNA tested with AKC and NAVHDA
Mr. Majestic, Our special superstar CK
Available for Stud
CK is the son of Duchess Gracie Decota (Cota), NA Prize I 112, UT Prize I, 204 (maximum scores possible) and JX's Atticus Augustus (Gus), UT Prize II, UPT Prize III.  He is the grandson of CH VC Griffe D'Automne Mr. Brown (Jacque).  Jacque received NAVHDA's Natural Ability Prize II, UPT Prize I, UT Prize I and the rare NAVDHA Versatile Champion and the great grandson of Palos Triangle Cote Roannaise, NA Prize I 112, UT Prize I 204. A star-studded pedigree... and a proven line of incredible hunting dogs. 
CK was born on my father's birthday one year after my father's passing.  We were going to keep a female from the litter, but CK stood out as a special puppy from the beginning.  He had such a loving wonderful personality; calm, friendly and outgoing.  Yet, you could see his hunting desire and natural ability at only a few weeks old.  He was tracking a wing and pointing by five weeks.  Took to the water like a fish and would carry an item in his mouth throughout the day.  I was speaking with my sister about the litter one day and I mentioned that we were going to keep a female, but there was this special male that I was really getting attached to.  My sister said, "Brother, that's a pup to keep in memory of dad.  That's why he's so special.  He's a lot like dad and he was born on Dad's birthday."  Well the light went on and I knew CK was going to be part of our family.  He's proved to be even better than I expected.  BTW, I'm from Hawaii and my dad's name was also George.  In Hawaiian George is Keoki.  Hence Cota's Keoki, named after our special girl Cota and my wonderful father. 
CK received NAVHDA's (North American Versatile Hunting Dog Association) NA Prize I, 112. The highest score possible in the Natural Ability test.  I don't like testing a dog in the NAVHDA's UT test until a dog is at least two to three years old.  The test and training is so difficult that it can take the desire out of a young pup if you are not very careful.  CK excelled so much as a pup that I decided to test him in the UT at one year, eleven months.  He rocked it receiving a 197 points out of a possible 204. 
At only five and half months old CK guided his first hunt and everyone there was talking about this young pup who excelled in the field and pointed like a seasoned dog.  At only nine months old CK did some work for the Idaho Fish and Game retrieving sick waterfowl from infected ponds.  One day he retrieved over fifty ducks.  Again, all the folks there were in awe of CK's raw natural ability.  Since then CK has guided numerous hunts for Pheasant Forever, Quail Forever, Private Clubs and Military events.  CK's hunting ability is off the charts.  He's proven to be the rare dog that can hunt Chukar, waterfowl, pheasants and quail (Bobwhite and Valley).  And when I say hunt them, I mean hunt them well and often.  (We hunt 3-5 days a week during the season)  CK is that rare dog that adjusts his range, style and performance to the game at hand.  It's simply amazing to watch him work.   
We absolutely love CK's coat.  He has the excellent hunting coat that Eduard Korthals bred for.  And just look at his confirmation, Eduard would be happy to see that his line and style of Hunting Griffs are still around today.  That's why we decided to breed Wirehaired Pointing Griffons and why we have CK available for stud service.  
We have successfully shipped CK's semen across the country for AI breedings.  CK's semen has been chilled and tested for shipment. His motility level was still at 90% after being chilled for an extended length of time.  Our reproduction vet will work closely with you and your vet if a shipment for breeding is desired. 
For more information on HG's Cota's Keoki, (CK) please contact,
George DeCosta, Jr.
208-740-0080